Every Generation Ministries is closely monitoring the global situation related to COVID-19 and assessing each of our scheduled ministry opportunities as needed. We are dedicated to providing short-term ministry trip participants and supporters with real-time updates as the situation develops, and have been communicating with them accordingly.
If you wish to discuss the situation with the EGM team,
please contact Kelli Johnson: kjohnson@egmworld.org | (951) 587-3825 ext. 102
Take a Short Term Ministry Trip

Every Generation Ministries supports ministry to children in 15 countries. Part of that support includes sending teams from the United States overseas to connect with what's already being done through the local church in those areas.
Short-term ministry trips connect God's people, and provide unique opportunities to serve the body of Christ. These opportunities help inform the way we pray for churches overseas and the way we see ourselves as part of the larger global Church. They inform the way we praise God for the gifted leaders around the world who are accomplishing His kingdom work.
Join EGM's ministries in 15 countries by participating in a short term ministry trip!
Email Tara Thomas our Mobilization Coordinator at tthomas@egmworld.org for more information.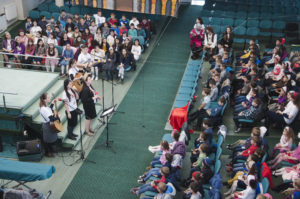 Romania - Postponed until June/July 2020
Cost: $2,950
Every Generation Ministries is invited to bring a U.S. team to partner with Bethel church in Suceava Romania again this year for a Vacation Bible School. This VBS  focuses on discipleship of boys and girls in the village concentrating on relationships, creative Bible teaching, discussion, experiential activities, and a response to God. A U.S. team is forming and will work together with the national team to see kids lives transformed in Christ through His church. Trip participants will fly into Suceava and also have an opportunity to get to know the people of Romania by experiencing the culture and history. The ministry cost is $2,950.
Please prayerfully consider this opportunity to partner with the local church in Romania. You can email Tara Thomas our Mobilization Coordinator at tthomas@egmworld.org for more information.