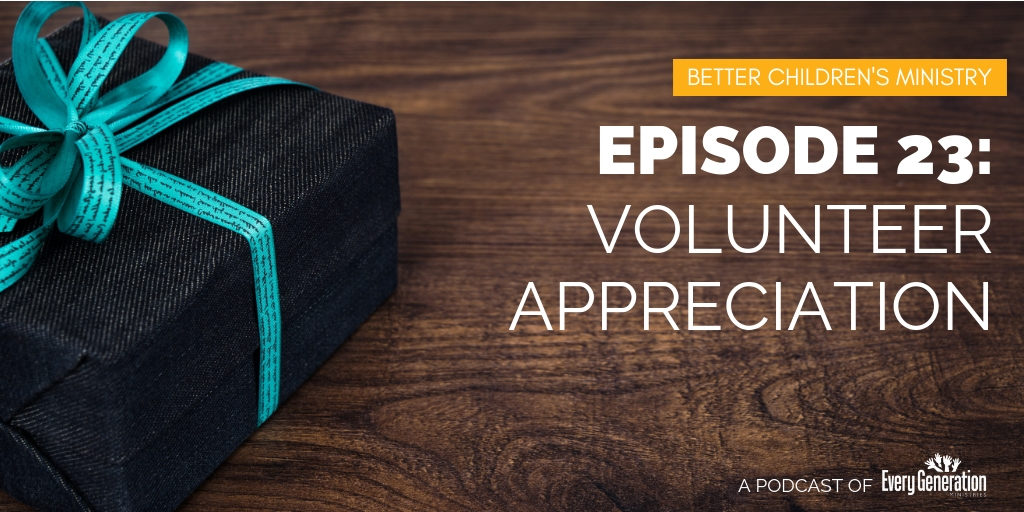 Podcast: Volunteer Appreciation
Volunteer appreciation is very valuable and very important. One of our goals through this podcast is to pour encouragement into our listeners with the hope that you can pour into those around you as well. We are especially praying for you during this hectic holiday season; we know things tend to get a little nutty!
But whether we're leading our church's children's ministry or we are a fellow volunteer, each one of us can play a part in the building up of others around us. In this episode of "Better Children's Ministry," Tara Thomas and Kelli Johnson talk about the value of expressing appreciation and out-doing one another in showing honor.
**Warning ** We talk about insects in this episode. It's a little gross. #KidMinLife
Highlights:
4:33 – Some of the things we've received that made us feel appreciated
7:48 – Memorable gifts/notes are really relational
8:30 – During the holiday season, how can we support and encourage each other?
10:13 – Our relationships with God and with each other remain the focus
10:56 – What does God's Word say about why and how we show appreciation?
12:30 – Encouragement for leaders looking for creative ways to show appreciation
16:38 – A prayer of encouragement from Tara