Despite the war, EGM-Ukraine's ministry work continues to Ukrainian children in and outside of Ukraine
Bible teaching resources were safely transported out of Ukraine through a humanitarian convoy, allowing ministry work to continue through our EGM-Ukraine team who is serving refugee children in churches in Romania, Poland, and Hungary. The team is being used in these countries to minister to children and families who need God's healing from the devastating effects of the war.
A large number of Ukrainian people have been displaced and do not have access to a church. To reach refugee children, families, and children's workers with the Word of God, an interactive Bible lesson app was created by EGM-Ukraine. The app is available in the App Store and Google Play and has been a useful tool for children to connect spiritually and continue to learn God's Word from anywhere they are.
This summer, two Summer Camps were held in Poland for Ukrainian refugee children and their mothers – 230 children and 200 moms participated. Most of them had never heard about the Gospel and it was their first time hearing a Bible lesson. The camps were designed to help escape fear and rediscover hope. EGM's ministry team in Europe was ready to serve these precious families and minister God's comfort, love, and care for them. They witnessed God restore hope and renewed life in the children. Please pray for the lives that still need to be restored.
A new ministry resource, "15 Meetings for Teens," was produced by our team in Ukraine. It is being used in churches to minister God's love to teens and to help them learn how to apply Biblical truths to their daily lives. This resource is impacting the lives of many teens, and we praise God for His work in their lives.
Five summer camps in July and August were led by EGM staff and leaders in Cherkasy, Central Ukraine, where 400 Ukrainian children and teens participated. Despite the alerts from the war and constant rain, God was at work during the camp and transformed it into something beautiful. The theme of the camp was "Getting a New Hope." Children who came to camp struggling found new hope as God replaced their sadness and fear with His love and joy.
A trauma camp program was created by our Ukraine team as a resource for churches that has been used in Romania, Poland, and Ukraine to minister to over 700 children so far. Children's leaders and volunteers remain dedicated to reaching children who have experienced trauma, who have been left without parents, or who have been injured. The trauma camp curriculum continues to be used as a tool to help bring God's healing and hope to children across Europe.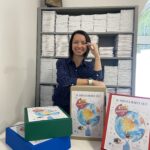 "We are seeing many children believe in life again. Their unforgettable tragic stories and their irresistible desire to live and enjoy life have forever left an imprint on our hearts."
Iryna, EGM-Ukraine Director